We supply a wide variety of custom stainless steel and hollow metal doors, with Quick Quotes and Rapid Delivery. With our integrated engineering and manufacturing under one roof and more than 30 years of experience, we deliver "What You Need, When You Need It."
As a member of the Steel Door Institute, you can be assured that all DCI products meet the highest in industry standards.
---
All Stainless Steel Doors and Frames are NOT Created Equal
Stainless steel has been an architectural mainstay for decades, and stainless steel doors and frames can enhance any building design – while providing unparalleled durability. DCI chose stainless steel doors and frames for our own 95,000 Sq. Ft. building for these reasons.
Doors and frames constructed of stainless steel have significant benefits:
Long lasting
Easy to clean
No painting
Aesthetically pleasing
Rust-resistant
Hygienic
5 reasons why DCI Stainless Steel Doors and Frames are the superior choice:
DCI manufactures stainless steel doors and frames from 100% stainless parts. All reinforcements, frame anchors and internal parts are stainless steel – eliminating metal incompatibility, which can cause a harmful electrolysis process
To prevent contamination from other steel products, all DCI stainless steel doors and frames are manufactured in a completely isolated production area of the plant.
DCI provides fire-rated door and frames rated up to 90 minutes – which means Integral lites and lite kit options can be incorporated into the doors
Stainless steel doors and frames are available in #304 standard alloy as well as #316 alloy for extra corrosion resistance from saltwater air and spray
Stainless steel doors and frames are run through the same lean supply chain process as our other doors – which means you get what you need, when you need it
Stainless Steel Door and Frame Options
Any manufacturer's hinge locations
18-gauge top and bottom channels
Continuously welded vertical edges (seamless)
1 3/4" standard
18-gauge steel standard
304 alloy with #4 finish standard
---
Material Options
316 alloy with #4 or #8 finish
16-gauge, 14-gauge steel
#2b finish
---
Feature Options
Up to 90 minute fire label
Flush top cap
Any manufacturer's Deadlock prep Panic prep, and Mortise sectional trim
Stainless Steel Flat bar astragal (pairs)
---
Hardware Reinforcements
All internal components are stainless steel
3/16" for hinges
12-gauge for locks standard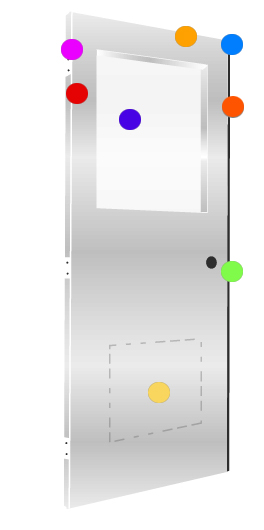 ---
Downloads
---